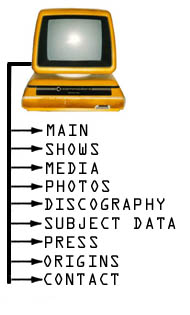 Through careful manipulation of the media and the press, They Came From Beyond have been able to promote their cause while still avoiding the majority of the public eye. Contained in these pages are various excerpts of information that has been leaked to the press. It should all be considered strictly CONFIDENTIAL.
---
TCFB Interviews
Beyond Words - By Matt McPetrie
This interview appears in the Space Junk On-line Zine and also appeared in the CFBU freq newsletter.
---
Show Reviews
North By Northeast Festival, June 8th, 2000 @ Bovine Sex Club
From Exclaim! magazine, Written by Scott Ingram
Musically I would say this St. Catharines trio sound a lot like early Man or Astro-man? except for the couple of hard rock numbers including a Body Count cover. The story with these guys, though, is the small cast of costumed friends/weirdos that took over the area in front of the stage and demanded audience attention. Antics included in-your-face freakish dancing, actual wrestling (with costumes), and acting like extras from Heavy Metal Parking Lot. Even if you were annoyed or disgusted, you have to admit it grabbed your attention.
North By Northeast Festival, June 8th, 2000 @ Bovine Sex Club
From Now magazine, Somewhat paraphrased...
They Came From Beyond, a St. Catharines trio lit up (appropriately enough) The Bovine Sex Club, for the midnight slot of Thursday night's performances. The capacity crowd witnessed what was for sure the most bizarre attraction of this years festival (and that is impressive considering that another act toured with a porno-circus). Musically the trio sounded like early Man or Astro-man?, and showed a great sense of humour by churning Metal Covers to please the crowd. The stage show consisted of an overweight schizophrenic ring leader and his gang of goons, performing sex acts, Bizzare dances, and wrestling. All of which contained some type of nudity, sexual innuendo. Bizzare and twisted, the only way to describe what was possibly the most entertaining band this year at NXNE.
---
Album Reviews
Review of Not Earth People CD EP From Reverb Central, Written by Phil Dirt
** This Canadian band seems deeply inspired by a less reverby Man or Astro-MAN? They are tight and punk based, but there is a general lack of melody on most tracks, which is too bad, because the rhythm section is quite solid.
Picks: Surfin' Sleuths, The White Haired Avenger
Reviews of individual songs...
Review of Not Earth People CD EP From Space Junk zine, Written by Erik Von Metalhead
Review of Not Earth People CD EP From Exclaim! magazine, Written by Craig Daniels
They Came From Beyond cite Man or Astro-man?, Servotron and Devo as influences. Their all-instrumental, space-sample laden, jerky surf is obviously inspired by all these bands, but particularly Man or Astro-man? This EP starts off with the strongest of six tracks, "Transmission From Space" [sic], which features some spooky organ work. The other songs are generally more "surf" than "space" oriented. Some of the playing is a little on the shaky side, like on the unsure double-time guitar picking of "The White Haired Avenger". There is a cheap-sounding synth instrumental added as a surprise bonus track, which is maybe the most "out there" stuff on this disc. It would be interesting to hear what these guys sound like in a year or so, after a lot more gigging and hopefully developing a stronger identity.
Review of Not Earth People CD EP Written by Matt McPetrie
It sure is great to hear some good, instrumental rock n roll for a change. This new cd pays respect to all the great instro bands: Ventures, Shadowy Men, etc. but speaks its own language. Check out Laika: The First Bitch In Space and... well the whole disc is a good trip. Not too long, not too short, not drenched in reverb, it neglects all the cliches of surf rock and goes for the meat.
---
Other Press Clippings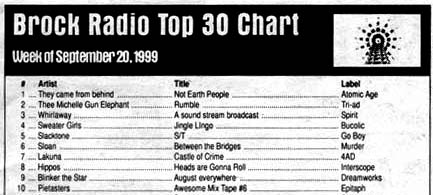 ---